Detail cleaning is one of the services our customers ask for frequently . At S&S Janitorial we take pride in our top down approach to making a place of business shine. Your business needs to be inviting to your customers. Pay attention to the areas listed below. They are the ones we concentrate on when detail cleaning an office.
Entryways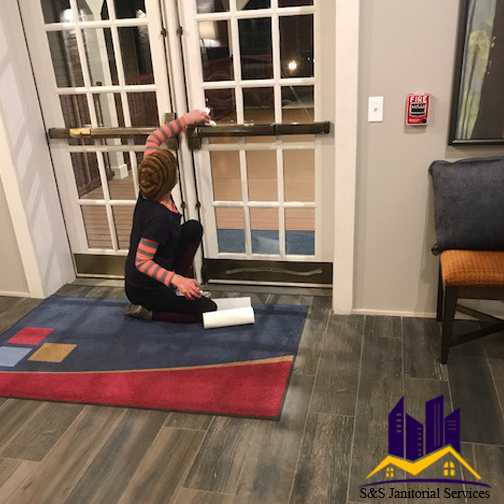 The main entry to your building is the gateway to your business. Unfortunately, it also provides access to insects and spiders. Thorough cobweb removal is essential, ceiling to floor. Flies often congregate here trying to escape the building, leaving a graveyard of tiny carcasses around the interior of the the window. These need to be swept up with a hand broom. Wipe down the entire casing with all-purpose cleaner and a clean cloth.  Finally, all interior and exterior glass around the entrance should be cleaned with a quality glass cleaner.
Baseboards and Walls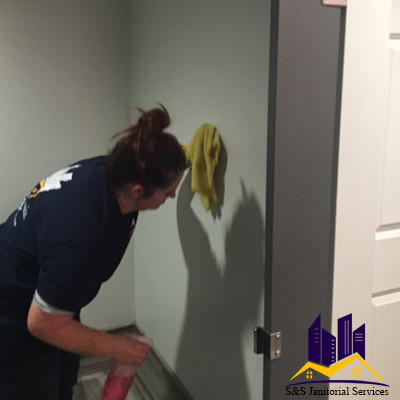 The more traffic your business receives, the more you should pay attention to the lower areas of your premises. Over time dust can build up along the horizontal face of your baseboards. Debris and mud from shoes can splatter on the lower part of the wall. Use a scrub brush or abrasive sponge with a diluted grease cutting detergent such as Dawn dish detergent, to remove the caked-on buildup that accumulates over time.
HVAC Vents
Your HVAC filters should be changed regularly, but if the vents remain dusty it will have serious effects on the air quality of your business. Make sure the vents are cleaned regularly. Use a quality duster to remove the dust and wipe with detergent solution and a microfiber cloth.
Light switches and Face Plates
The Areas around your light switches is one area we find that requires constant attention. The face plates and surrounding wall quickly become smudged with finger prints and the natural oils which occur on the human skin. Again, use your detergent solution and microfiber cloth. Make sure you clean a large wall area around the face plate. It is important to do this regularly because it reduces the risk of transferring germs, especially during these increasingly dangerous flu seasons.
Areas above Eye Level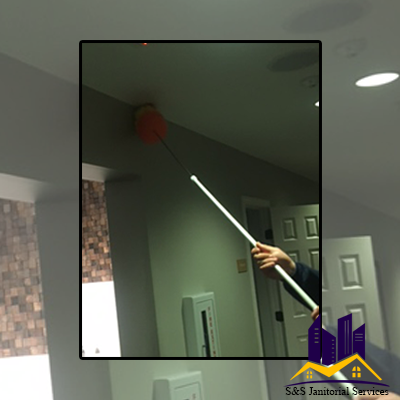 Month's worth of dust will build up in the areas above eye level. A step ladder is your friend when detail cleaning these areas. The horizontal surface on the upper casing of interior doors and windows, the upper shelves on book cases and storage racks, and the tops of filing cabinets are places that we find most problematic. Dust thoroughly and wipe with your detergent solution.
Florescent Light Fixtures
Flies will inevitably find there way into the fixtures in your overhead lighting system and become trapped.  It is extremely unattractive to look up and see the results of many years of this. It is time consuming but make the commitment to addressing this problem.   You will need a proper ladder.  Remove the Light cover. Be careful to not crack or damage it.  Brush the flies into a trash receptacle and wipe down the cover with a mild detergent and microfiber cloth. Always observe the utmost safety when using a ladder.
On top of regular maintenance cleaning, these are a few of the areas that we concentrate on when performing a deep, detail cleaning. Use these time to improve the appearance, and air quality of your office.