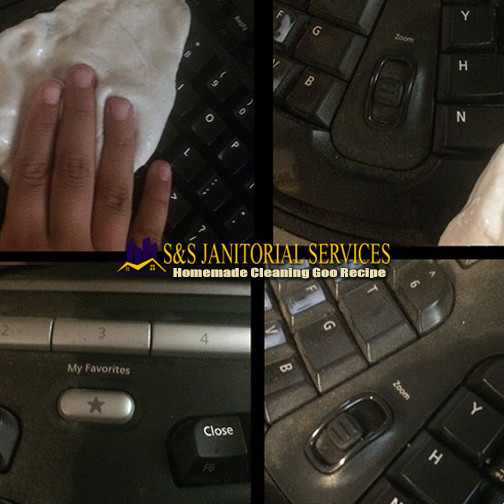 Our Homemade Cleaning Goo Recipe is a great way to get your kids involved in a cleaning project, or just to try something new. Here we will teach you to make your own fantastic homemade cleaning goo! It's hard to believe that goo is very helpful in getting things clean. Our recipe is not only easy to make but will clean out the nastiest of hard to reach areas like corners of rooms, car or air vents, between the keys on computer keyboards or musical instruments, and more!  This homemade cleaning goo recipe is safe and fun to make for children with constant adult supervision, just be sure to read the labels of all your ingredients just to be sure that you or and other making and using are not allergic to any ingredient.
Clean those hard to reach places with this homemade cleaning goo recipe!
This simple do it yourself recipe catches dirt and grime from hard to reach places such as keyboards, mobile phones, printers and vents. It dries out quickly so be sure to store it in a sealed container. Borax, a detergent booster, can be found in the laundry aisle of most major grocery stores.
Homemade cleaning goo recipe:
1 tablespoon water
2 tablespoons of white school glue (such as Elmer's)
4 tablespoons Water
4 tablespoons Borax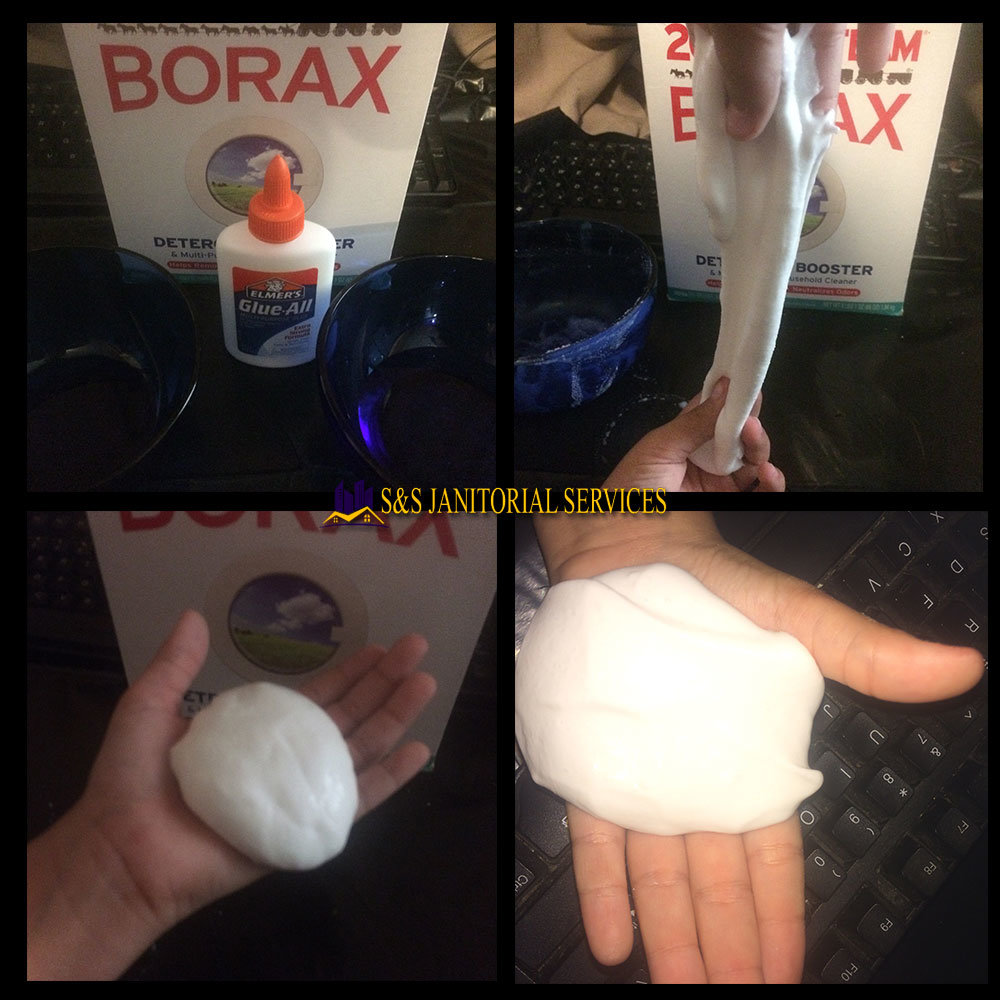 In a small bowl combine the 2 tablespoons of glue and 1 tablespoon of water, mixing well. In another small bowl combine 4 tablespoons of Borax and 4 tablespoons of water, mixing well until the Borax dissolves.
Combine the ingredients from both bowls and stir well, creating the cleaning goo. When it thickens a bit, use your hands.
The goo forms a thick mass in the mixing bowl, there will be some water and left in the bowl.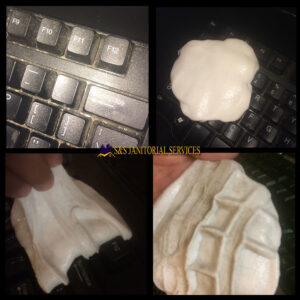 Take the mass of goo out of the bowl and mix it with your hands until it's not dripping wet,  just a little "damp". This part is really fun for the kids! Let them handle it with clean dry hands, until it no longer feels gritty and is nice and smooth and very lightly damp. At this point, if you place it on a piece of paper for about 10 seconds, it won't leave a spot or residue.
Safety First: Please TURN OFF any electronics you plan on cleaning BEFORE using the goo!
To use, apply it to your keyboard or vents, then gently pull off.
---
About Us: Berkshire County Janitorial Cleaning Services
S & S Janitorial Services is a family owned, full service janitorial provider, dedicated to providing our clients with superior service. We believe that a clean work environment is a productive and safe work environment. We offer Commercial Cleaning Services, complete building maintenance, office cleaning , quality cleaning with the customer in mind, residential cleaning, and professional floor care services in Berkshire County in Massachusetts.
S&S Janitorial Services
149 Tyler Street

Pittsfield, Massachusetts 01201

United States (US)

Phone:

(413) 822-1768

Email:

contact@sandsjanitorialservices.com



Homemade Cleaning Goo Recipe by Derek Anthony Scully Owner S&S Janitorial Service, Pittsfield, MA 01201