Winter is one of the harshest times of the year to keep your home or business looking professional and clean. The window is the eye to the business or home, as it is the first thing people see as they get ready to enter. You definitely want to present a pleasant view from both inside and out. Here is the best way to make this a reality.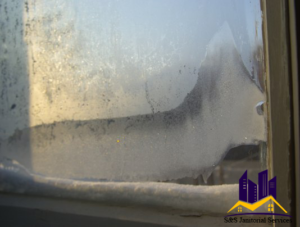 When winter weather hits, the combination of cold  air and precipitation can cause your windows to freeze, accumulate frost, and collect snow. While it may be fun to doodle pictures and messages in this frost, it's not the way you want to present your business or home. Often times inexperienced people will try to use various over the counter glass cleaners to sharpen up the windows appearance, only for it to freeze to the glass. This is completely counterproductive. But, there is a way to take care of this nuisance with little effort on your part!
The key to combating this is "antifreeze". Using a good windshield fluid with antifreeze will not only clean your windows, but it will also stop them from freezing over. As an extra bonus, you'll find that this can also help remove built up ice and residue. I know what you're thinking, antifreeze is typically used for vehicles during the winter. Following these quick steps will change your way of thinking.
A good glass scrubber and a squeegee can be employed, along with soft rags, to wipe the areas around the pane. After scrubbing the window, run the squeegee in an "S" motion to remove antifreeze liquid, and wipe the remainder with a rag. If you don't have a squeegee handy, you can always use a hand sprayer with a rag to wipe down the glass, and to keep them clean.
S&S Janitorial Services, Pittsfield MA – Berkshire County – Cold Weather Window Washing