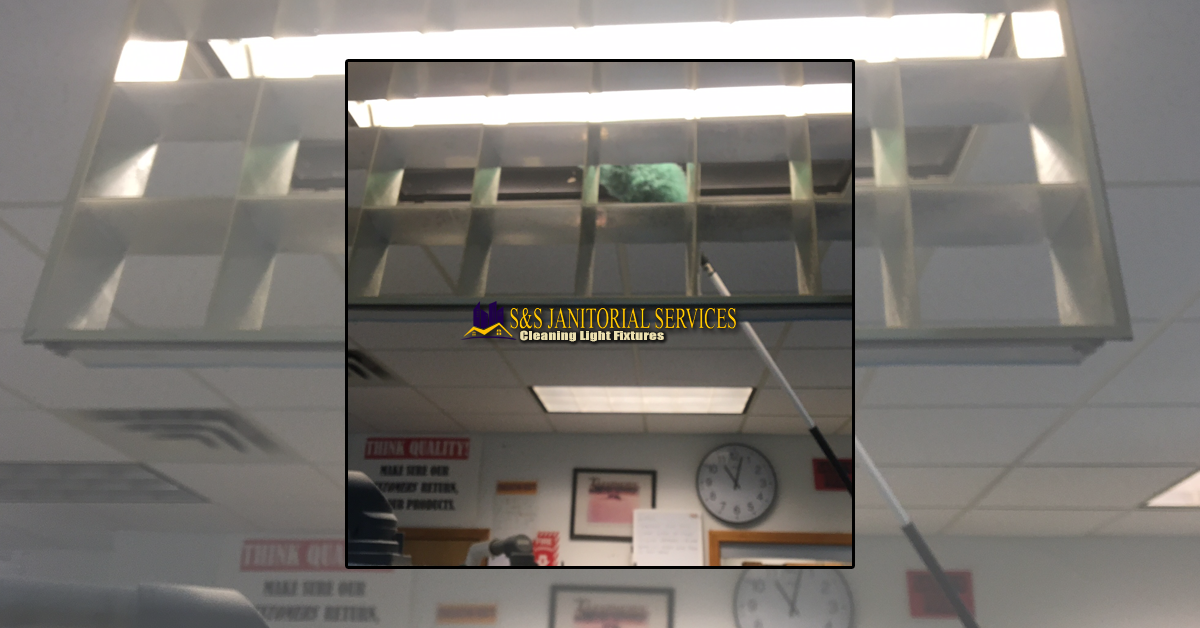 High dusting light fixtures keeps your facility glowing.
This seems to be one area that is easily overlooked by many cleaning companies and office workers. While taking care of clutter and obvious debris throughout your office, you also want to present your location in the brightest way possible. Over time, your light fixtures begin to retain heavy dust. If this dust is left untouched it can cause your facility to be dim, and cost you money. The dust will often settle on your light bulbs as well as around the fixtures, causing the bulb to emit less light.
One simple hack to fix this problem is too simply pull the side latches on your office light fixtures (which will swing open the fixture.) Be sure to unplug the lighting source to avoid electrical shock. Once removed, you should lightly moisten a terry cloth towel and wipe around the bulb, or dust with an extended duster. Lastly, from a ground position, be sure to dust around the remaining light fixtures to remove any excess dust. After allowing ample dry time the fixture can be swung closed, and re-latched.
This simple service performed every few months will increase the brightness of your facility and save you money over time. Office maintenance and cleaning is an art – when it comes to saving money, stay on top of the simple things and you will surely get the most value from your cleaning efforts.
Office Cleaning – Cleaning Light Fixtures
---
About Us: Berkshire County Janitorial Cleaning Services
S & S Janitorial Services is a family owned, full-service janitorial provider, dedicated to providing our clients with superior service. We believe that a clean work environment is a productive and safe work environment. We offer Commercial Cleaning Services, complete building maintenance, office cleaning, quality cleaning with the customer in mind, residential cleaning, and professional floor care services in Berkshire County in Massachusetts.
S&S Janitorial Services
260 Pecks Road
Pittsfield, Massachusetts, 01201
United States (US)
Phone: (413) 822-1768
Website: https://sandsjanitorialservices.com
Email: sandsjanitorialservices14@gmail.com