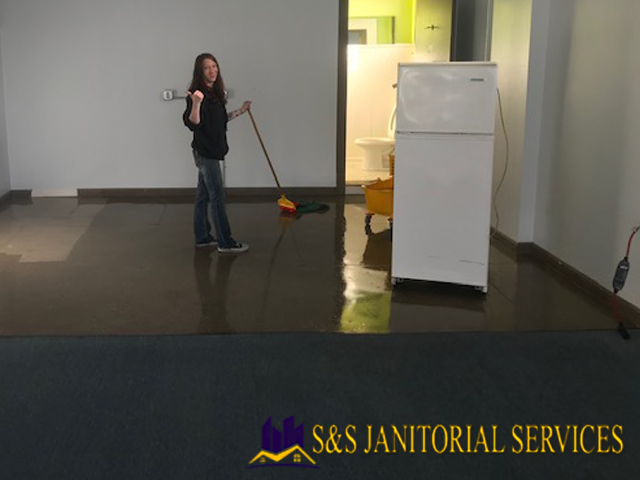 Keeping your business clean is an everyday fact of life for a business owner. It is essentially an unavoidable truth that customers and employees will track in dirt and grime. That new customer did not see the snowplow or street sweeper go by and dirty up the store windows. The new customer walking through your door for the first time sees what they see. Tomorrow, walk into your business and give a good, long look around.
As a business owner, you are busy, and the truth is that hiring a professional cleaning company is not only affordable, but a time saver. You know what must be done – windows must be washed, the traffic of the past day must be vacuumed off the floor, dust on windowsills, cabinets, lighting fixtures. Do the floors need waxing, are the bathrooms sanitary and spotless? Nobody truly appreciates the task; however, it can't go unattended for a long time or it really starts to show to everyone, and this reflects not just on your business, but you and your employees.
It's hard enough managing the day to day needs of a business without being worried what the next customer or client will see. Sometimes, people are worried about letting strangers into your "space". They struggle with the fact that they or their employees should be enough to handle the tasks at hand.
Once you call us, we do everything we can to get to your doorstep as fast as possible. At S&S Janitorial Services, you can be sure that any time you need us we will always be there for you, we work our hardest to attend to your needs.
We are committed to giving our clients maximum value for their money. We provide exceptional quality in our services working with your budget.
Let S&S Janitorial Services Do Our Job So You Can Concentrate On Yours
In many cases hiring a professional cleaning company is much more effective than hiring a in-house full time, or even part time, cleaning staff. We have already the done the training, have the specialized equipment, and can come in with an expert crew to always present to your customers and clients your business best face.
Working with Berkshire County's leading business, S&S Janitorial Services have received exemplary reviews and testimonials. S&S Janitorial Services strives to go above and beyond your expectations, so you will always be happy with the job we do for you!
Give Your Business That Successful Professional Shine
Many times, we have spoken with potential clients and heard them ask, "What can you do that I can't?" The answer is not that simple. Unless you have all the professional equipment and can spare the time cleaning, when you could be focused on your business, then you may not need a professional cleaning company.
We offer years of time-tested techniques and equipment that make us S&S Janitorial Services ranking so much higher above other commercial cleaning contractors in Berkshire County. It is the dedication to excellence that makes us stand out at what we do. Just as you excel at what you do.
Take Your Life Back This Year
The greatest advantage to having S&S Janitorial Services clean your business is the time it gives you back. A great many people have an incredible schedule spread-out between work, family commitments and social obligations. With all that on your plate, who truly wants to invest the little free time cleaning? You have worked hard at building your business, now it is time to get some more time to enjoy your free time!
How much time? Our Basic Office/Commercial Cleaning service includes:
Foyer: Cleaning entrance area, including inside and outside of front door. Brushing or wiping down any furniture and sweeping or vacuuming the floor.
Offices and conference rooms: Blinds, vents, picture frames, and monitors. All switch plates, desks, counters. and other horizontal surfaces are damp wiped. All chairs and floor mats are cleaned, and floors are vacuumed or swept and mopped.
Bathrooms: Mirrors are cleaned, and switch plates, handrails, and fixtures are sanitized. Sinks and toilets are sanitized, and all chrome is polished. All paper and soap products are restocked, and the floor is swept and mopped with an appropriate cleaner.
Kitchen and break room: Blinds, vents, light fixtures and recessed lighting are dusted. All switch plates, tables, counters. and other horizontal surfaces are damp wiped. The exterior of the refrigerator is wiped as well as the interior and exterior of the microwave. Sinks are cleaned and sanitized, and chrome is polished. Floors are swept and mopped or vacuumed as appropriate.
Stairwells: Railings and banisters are cleaned and sanitized. The stairs and landing are swept and mopped, or vacuumed as appropriate.
Office-wide trash receptacles: Emptied, with the liner replaced as necessary.
All S&S Janitorial Services Commercial Cleaning services we provide are fully flexible with regards to your needs. Call 1-413-822-1768 for a free no obligation quote today.
S&S Janitorial Services
149 Tyler St., Pittsfield, MA. 01201
1-413-822-1768
contact@sandsjanitorialservices.com
2020 is The Year To Hire a Professional Cleaning Company